When most people think of Indian weddings, they are normally thinking of a Hindu wedding – in fact all the major world religions are represented in India. Although Hindu weddings do have a few things in common, in reality they vary a great deal; how the wedding is conducted will very much depend on what state and region the wedding is held in. One thing is almost always the case, Hindu weddings are big events and they involve a lot of people, both close and extended family – sometimes whole communities can be invited! The other thing that Hindu weddings have in common is that they are generally long and may last between three and five days. Hindu weddings are always colourful, joyous occasions involving important rituals and traditions, amazing food and, of course, lots of dancing and celebration.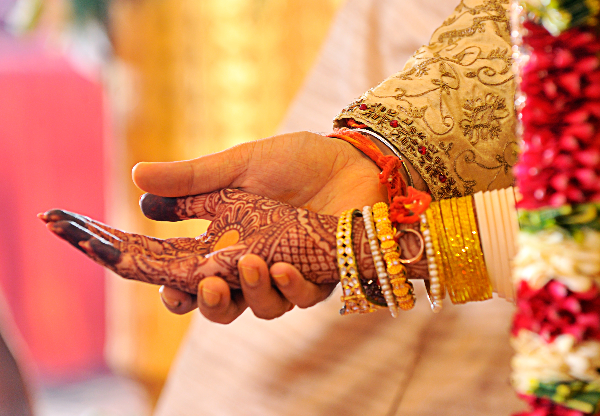 The Hindu wedding celebration may begin with the arrival of the groom on a horse, or even an elephant – this is called the Baraat. The pre-wedding events also begin with an important ritual that just involves the bride and groom, some immediate family and the priest: It is called Ganesha Puja (Puja or Pooja is the name for a worship ceremony). As suggested by the named, prayers are offered to the Hindu god Ganesh who is known as the 'remover of obstacles' – it is hoped that any obstacles to the couple enjoying a happy occasion and future are removed! The Sangeet is normally held on the second day – Sangeet means 'sung together' and it involves A LOT of singing and dancing. Traditionally only the bride and female guests would attend, however, today men also take part. On the night before the actual wedding a Mendhi ceremony is perfomed – this is a well known, fun ceremony involving henna (Mendhi), the paste that is applied to the bride's (and her female friends and relatives) hands and feet in beautiful patterns. The Mendhi ceremony is sometimes followed by a Mendhi party!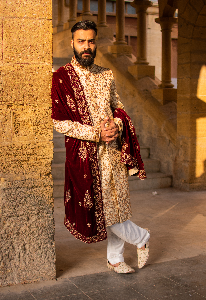 On the day of the wedding itself (often day three), the bride will wear a red, richly embroidered dress. She will be given away by her father, in a ceremony known as kanyadaan; the father places the hands of her daughter into those of her soon to be husband. The couple stand together under a mandap, which is a canopy adorned with flowers and greenery. Under the centre of the mandap there is a fire. At the most important moment of the ceremony the couple walk around the first seven times, after which they are married! Of course, these are just some of the customs and rituals you would expect to see at a Hindu wedding and traditions do vary!
If you have been invited to a Hindu wedding you will need to wear traditional Indian clothes: If you are a woman you will probably be asked to wear a sari and if you are a man, you will need to wear trousers with a long-sleeved tunic. You should also expect to be at the wedding for a few days, eat traditional Indian food and not drink alcohol. If you are invited it is an event not to be missed and is a cultural experience that will live long in the memory.