Weddings :
Celebrity Weddings
The Wedding of Ellie Goulding
"Truly her finest gig yet"
31st August 2019. 3pm (GMT)
Happy couple- Brit Award winning Singer Ellie Goulding (net worth $10million) aged 32 AND Art Dealer Caspar Jopling aged 27 who met through their connection to the Art world married in a lavish, romantic and majestic ceremony In their homeland of ENGLAND!
Dating since 2017 and engaged by August 2018 , a year on and we come to celebrate with a wedding! The engagement was announced in The Times by both parents.
The formal and religious ceremony was set at the Grand York Minster Cathedral, North Yorkshire. England.
Ellie arrived "fashionably late" 3.25pm to be precise, In a bright blue vintage, flower clad Volkswagen Camper Van!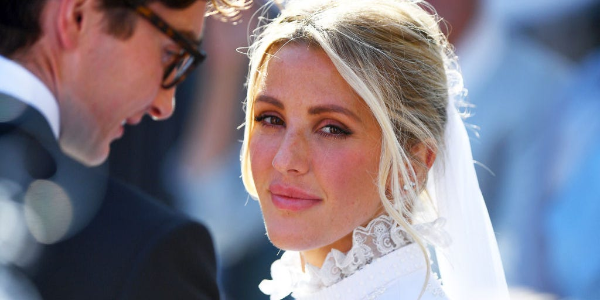 True pop star/festival vibe there! Accompanied by her chosen bridesmaids, flower girls and page boys- colour theme of light blue, natural make-up and hair styled in up do's- a simple but elegant look.
Caspar, however, arrived smiling on foot, surrounded by his Groomsmen - including Jack Brooksbank (Princess Eugenie's new husband) all wearing formal attire- hand tailored suits.
The wedding certainly had an A-list guest list, but equally the couple were surrounded by many family and friends.
Spotted were Princesses Eugenie & Beatrice accompanied by their beaus (Jack Brooksbank & Edoardo Mapelli-Mozzi) and Mother Sarah Ferguson. Katy Perry and soon to be wed Orlando Bloom! Harry's ex Cressida displaying her new, stunning engagement ring!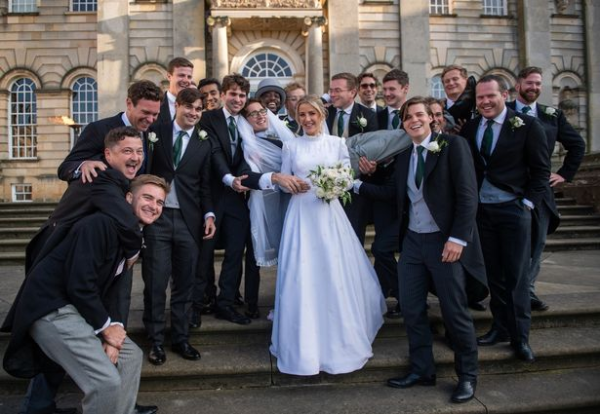 Ellie, the 5ft 5ins singer looked angelic! Her exquisite gown was traditional, it fell to the floor and she wore a full veil. The long sleeved , Peter Pan collar, white rose embroidered dress was created by Natacha Ramsay-Levi for CHLOE. This "one of a kind" creation was said to take 640 hours to make! Ellie was inspired by gowns she had previously admired belonging to Princess Anne and Princess Grace of Monaco.
Her long term make-up artist- beautifully followed Ellie's go-to makeup, consisting of classic, soft but equally gorgeous smoky eyes & nude lip. Ellie wore simple diamond earrings and displayed manicured hands.
Once wed the newlyweds shared an affectionate kiss on exit of the ceremony amid cheers from the crowd!
According to inside sources the Cathedral aisles were lined with simple white roses (£20,000 flower budget) and candle lit pews.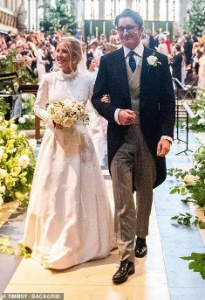 White roses are a symbol of the York Rose and a running theme throughout the entire event!
Onwards to the outdoor Reception- a 15mile trip, guests were transported to the lavish and most iconic Stately Home- Castle Howard. A rather apt theme of a gig for Ellie - festival appears to come to mind! After all she is a pop star!!
The couple used the same event planners that organised weddings such as The Duke & Duchess of Cambridge, Pippa Middleton & James Matthews and more, of late Harry & Meghan Markle.
Bollinger champagne, designer Vegan menu, a 4 tiered frosted tasteful cake with simple rose decoration. To party the night away- "Festival style" a guest Dj paying all-time greats 90's music!
It has been said marquees, tepees and even a stage (no surprise there!), portable toilets were erected within the grounds. The venue was reported to be closed for public entry during this occasion! Yurts and bell tents were used to house the guest's overnight accommodation!
As for the gift list- suggestions of donations to charities close to the couple's hearts were requested.
What comes to mind is the memory of Ellie performing a rendition of Elton Johns "Your Song" for The Duke & Duchess of Cambridge's first wedding dance at Buckingham Palace.
Emotional moments throughout the day were captured. The photo that sums up this fairy-tale wedding is they giggle & kiss during the cutting of cake!
Also highest on my list... I noted a number of dress changes throughout the evening! One being Stella McCartney!
A true fashion icon!
Congratulations to Mr & Mrs Goulding-Jopling!