Weddings :
Celebrity Wedding
Wedding of Heidi Klum & Tom Kaulitz
"WE DID IT" IN SECRET & FOR REAL
February 22nd 2019 (Private LA Secret Wedding)
The supermodel/ America's Got Talent judge Heidi Klum aged 46, tied the knot (for a second time) to her 17 year younger hunk Tom Kaulitz (29) a German musician.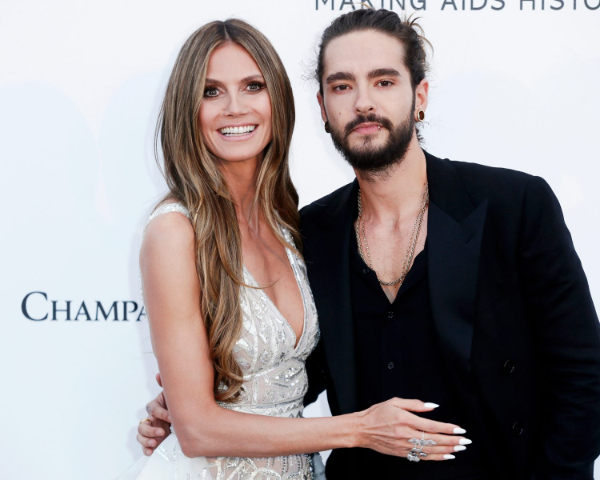 The wedding date coincided with the date they first met. Both parties had been married previously, Heidi to the well-known singer Seal. This being her 3rd marriage!
The couple were first linked in March 2018, shortly after they were engaged on Christmas Eve! With Heidi announcing their engagement by Posting a photo on social media of her enormous diamond ring with caption, "I said yes".
When on holiday in Mexico- Tom & the kids (Heidi has 4 children from previous relationships) worked together on the all-important wedding proposal breakfast! This has been said to include a breakfast tray including coffee, flowers & the ring box!
Two months after getting engaged the first secret ceremony took place! Spotted hours before, they enjoyed dinner at the famous Mr Chow's in Hollywood. The couple obtained an official marriage certificate from the state of California!
Fast forwarding to 3rd, August Capri, Italy… for week long celebrations!
Heidi was joined by her four children- Helene 15, Henry 14, Johan 12 and Lou 9.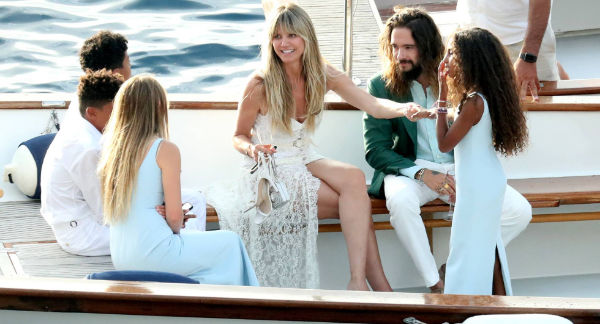 Heidi looked forever the amazing supermodel, wearing an impressive and ornate ivory, open shouldered embroidered dress with sparkling detail and voluminous sleeves. The dress was designed by Pier Paolo Piccioli for Valentino. Inspired by a certain lightness & romanticism matching Heidi's personality perfectly.
A simple veil worn over her flowing hair & minimal makeup to conclude the stunning look.
Tom was accompanied by his twin brother, Bob and his Tokio Hotel band mate! Looking very dapper in a cream suit!
Surrounded by their nearest and dearest, including friend and Spice Girl Mel B. The Vows were taken underneath a floral owning of draped orchids- on the deck of luxury yacht Christina O.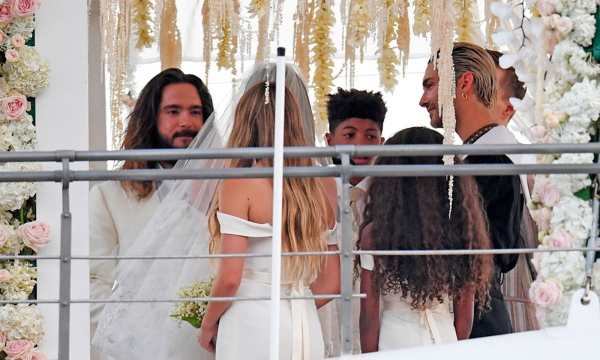 The yacht once owned by former first lady Jackie Kennedy's husband Aristotle Onassis. It dates back to 1943, a Canadian warship, converted to a luxury yacht- charged at £521,000 per week and can host up to 250 guests!
As the sunset on board… disco lights & bubbly started to flow…the party started!
The newlyweds changed outfits, Heidi into a simpler lace evening dress & Tom a white ensemble with fir green jacket.
"We danced until sun came up; it was nice because no one's feet were hurting. It was so magical."
Tom Posted a photo of his new wife sipping Limóncello! Heidi posted on social media a caption "We did it." Added by a bunch of red heart emojis! Signing off with "Mr & Mrs Kaulitz."
Congratulations!