Weddings :
Celebrity Weddings
Fairy-tale theme Woodland Wedding.
Joe (32) wed his 'best friend' Rosie (28) on the hottest day of the year in an intimate family friendly woodland wedding.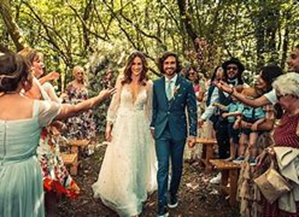 The couple have been together since 2016, engaged in the November of 2018, a few months after the birth of their first child. They share two children- daughter Indie and baby son Marley (born post wedding) .
The ceremony started with the bride and groom walking down the aisle together, a pathway lined with benches for the guests through the woodland. A fairy-tale effect along with other frivolous attractions including a specially hired fairground just fit for the occasion was just the perfect setting.
The reception was held in a barn, decorated with stunning flowers. The newlyweds were showered by petal-like confetti after they had taken their vows. The first dance was a memorable one- Sam Cooke's 'nothing can change this love'.
The party then kicked off into the early hours, family and friends enjoying entertainment on the merry go round, Ferris wheel and funfair games! Also joining the party was a unicorn and alpacas!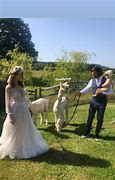 Joe looked dapper in his Navy three piece suit and of course to finish off his outfit he complimented his look with a pair of trainers! Posting on Instagram a Thank you post to his suit designer- @carolineandrewslondon.
Rosie looked stunning wearing a plunging, white sparkling tulle dress with long sleeves. To start she wore a veil, changing later to a flower crown displaying more of her wavy locks. A bunch of rustic flowers used for her bouquet.
Throughout the day, Joe posted plenty of gorgeous photos via his social media account. Gaining as many as 80k likes! Celeb friends wished him well with comments and later Joe thanked his fans for all their messages of congratulations and revealed he had married his 'best friend'.
Reflecting on the day, Joe said:
"It's true when people say your wedding day goes in a flash. We had the best day ever with our close family and friends. The venue was perfect, we were blessed with sunshine. We had funfair rides, food trucks with our dream menu, a G&T bar and had gelato and frozen Daqs for the win."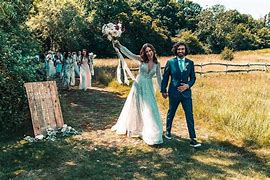 Joes final Instagram story of the day was a photo of the couple walking out of the ceremony hand in hand - captioned "The end…is the beginning."